Once dedicated to fixing civilian vehicles, an old depot a couple hours from the front lines in eastern Ukraine is now repairing, refurbishing and retrofitting captured Russian tanks, armored personnel carriers and a mix of other pieces of donated or outdated military equipment.
"We've learned so much that sometimes military units come to us and learn from our mechanics, how to repair military equipment, both Soviet and foreign," a lead mechanic in the shop said over Zoom. The sound of saws whirring and the vibration of drills could be heard behind him, as a few of the several dozen mechanics who work alongside him reclaimed old bits of military machinery.
The carcasses of old Russian and American-made military vehicles sit in scattered rows on the floor of the warehouse. The volunteer mechanics clamber across the different pieces of equipment, trying their best to learn what makes them tick.
"We are trying to evolve and we are trying to be better every time in hopes that we will reach the level of a true military facility," said the lead mechanic who spoke on the condition of anonymity because he's afraid his work could affect family living in a Russian-occupied area of the country.
Before the war, these mechanics fixed cars and trucks, trains and buses. As with so much in Ukraine, their focus is now on the Russian invaders and how to crack open Russian T-72 tanks, U.S.-made MRAP (mine-resistant, ambush-protected) vehicles and donated multiple-launch rocket systems that were brought to them for repair.
While Ukraine's Western partners have spent months debating whether to provide tanks and other military pieces to Ukraine, volunteer mechanics quickly learned how an array of used military hardware works and made the fixes to return them to the battlefield.
"We have never dealt with military equipment before. This is a different type of facility. We weren't prepared for this, but the war started and we had to push back the Russian Federation — this is what we can do as mechanics," the lead mechanic said through an interpreter.
The lead mechanic and his crew's efforts are, in some ways, at the center of the tension that had cast a shadow over talks between Ukraine and its partners recently. Ukraine has continued to demand military aid as the war nears its first anniversary, hammering the point that they need more armored vehicles and tanks — rather than just the repaired and outdated Soviet-era equipment it has relied upon — to break through the increasingly frozen conflict.
"We must use every old Soviet transport vehicle, every armored vehicle, every pickup, whatever we have to restore to give to our soldiers because this saves lives."
Bohdan Ostapchuk from the Serhiy Prytula Charity Foundation said
The U.S., Germany, and other NATO allies in turn debated what sort of aid to provide Ukraine — with no tanks in the offing initially. That changed with President Joe Biden's announcement last week that the U.S. would provide 31 M1 Abrams tanks after intense negotiations with his European counterparts.
Germany announced they would provide 14 Leopard 2 tanks initially, promising to send more later, and that it would allow countries that had bought their tanks to do the same. Other countries — including Poland, Spain, the Netherlands, Finland and Sweden — said they were planning on or considering sending their own Leopard 2 tanks. The United Kingdom pledged to send 14 of its Challenger 2 battle tanks.
The Russian army, meanwhile, has experienced vast tank losses since the start of the war. Oryx, a Dutch investigative project that documents equipment losses in the war, said 1,646 Russian tanks have been destroyed, damaged, abandoned or captured. The group said it "only includes destroyed vehicles and equipment of which photo or videographic evidence is available."
The seemingly tortuous debate rankled some of the workers at the repair facility as well as those who have provided parts and funding to the shop. Their belief is that, given the opportunity, Ukrainian mechanics can learn how to fix these tanks just as well as the ones they've worked on thus far. U.S. officials have expressed concerns about whether the Ukrainians would be able to learn how to use and maintain the tanks fast enough for them to be effective in a spring offensive, even though Kyiv's forces have proved adept at tackling new technology.
Bohdan Ostapchuk has helped coordinate the repair of captured vehicles at the facility for the Serhiy Prytula Charity Foundation, a nonprofit operated by Prytula, a former television host and political candidate in Kyiv. They have paid for the repair of 13 captured Russian vehicles so far: T-72 tanks, BTR-80 amphibious personnel carriers, the BMP infantry fighting vehicle and the BREM-1 armored repair and recovery vehicle.
"When politicians abroad say that vehicles from Western countries are too complicated for Ukrainians, that we need to have a lot of infrastructure or we need to spend a lot of time with these vehicles, it's not true," Ostapchuk said after visiting the mechanics who were working on an American personnel carrier among other items. "If they give us parts and one week to explore the manual, we will repair every tank that the USA, Great Britain, Germany will send to us and we will return them to the front lines for our soldiers."
Although these Ukrainian volunteers are confident, U.S. officials have real concerns whether Ukraine can quickly learn to operate and maintain the Abrams tanks.
Defense Secretary Lloyd Austin and Gen. Mark Milley, the chairman of the Joint Chiefs of Staff, recommended against sending the Abrams tanks to Ukraine because they said it would take too long to train soldiers to operate and fix them, three U.S. officials previously told NBC News.
While experts said they expected Ukrainian tank crews to learn how to use the M1 Abrams fairly quickly, the key hurdle will most likely be maintenance and logistics, which President Joe Biden said the U.S. would help with when he announced the deal last Wednesday.
"It's certainly a little more sophisticated, and it's hard to train up people," said Col. Craig Madden, a retired brigade commander who later worked for Honeywell and oversaw work on the Abrams tank's engine. "But I think with advice and with backup capabilities, it won't be the significant challenge people are saying it will be."
The depot's lead mechanic and his crew are adept at repairing Soviet-style military equipment, but noted they have enjoyed their limited access to Western kits because they are more intuitively built, which can make it easier to navigate the circuits and wiring they find inside.
Experts said, however, that the Abram tanks have numerous black boxes that contain complex electronics and circuit boards that could be near impossible to fix without the necessary computer diagnostic tools and training. Learning how to diagnose issues and then provide repairs could take months alone and may require the assistance of Western military contractors who would work in the field.
Experienced tank crews would likely be able to quickly learn how to drive the M1 Abrams, according to multiple retired U.S. military officers who have used them extensively in the past, but it is the maintenance training that could take months alone, as well as learning how to coordinate with other ground forces. Starting on that training now, however, will ensure that the Abrams unmatched speed and firepower will be felt on Ukraine's battlefields and could help Kyiv quickly break through the stalemated trenches.
"The M1 Abrams is extremely maneuverable, and will allow them to go on the offensive," Madden added.
It could take months before the Abrams even arrive in Ukraine, however, as the U.S. is drawing from the Ukraine Security Assistance Initiative, which means the tanks will have to be manufactured by General Dynamics. In the short term, Ukrainian tank crews are being dispatched to Poland to train on the German-made Leopard 2 tanks that multiple NATO countries will provide, according to Reuters. They are expected to be ready for use on the battlefield by early spring.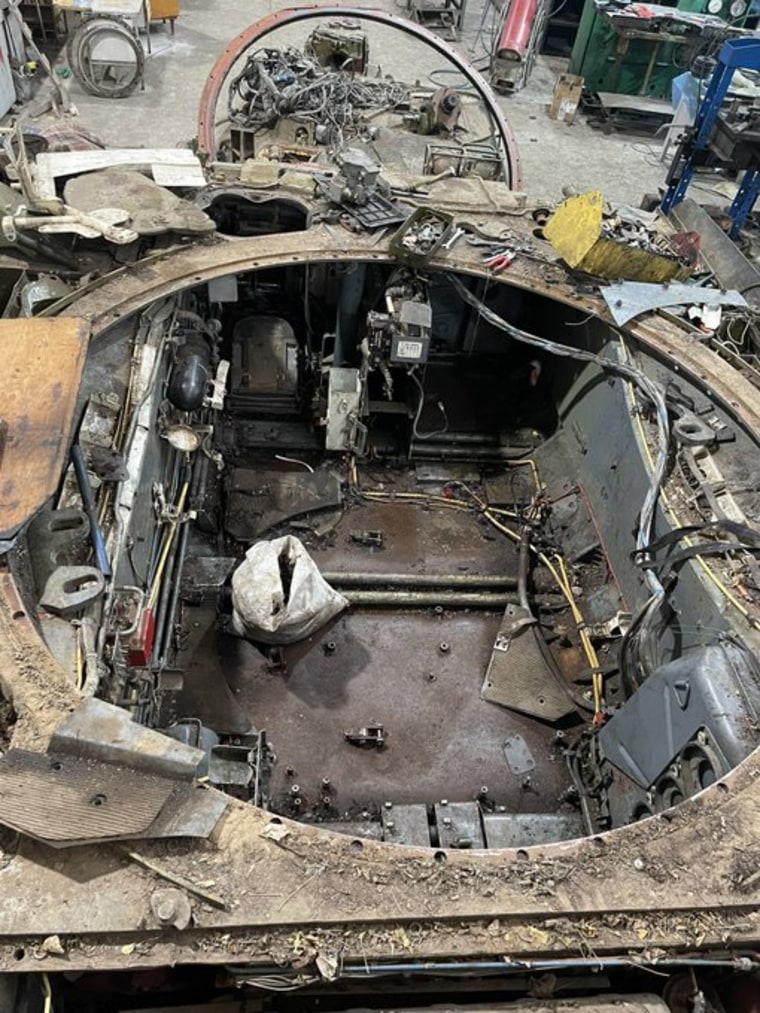 In the meantime, these volunteer mechanics are growing increasingly creative.
They are turning an old T-72 tank into a mobile repair vehicle, replacing its turret and cannon with a crane and ramp. They modified a light-armored vehicle based on requests from combat medics to create a more defensible field ambulance. They've affixed guns and light cannons to armored personnel carriers in some cases to make up for their limited number of tanks.
Anything with wheels and some armor can have a use, said Ostapchuk.
"We must use every old Soviet transport vehicle, every armored vehicle, every pickup, whatever we have to restore to give to our soldiers because this saves lives," he said.
He knows that the ask is a big one, but every tank the West sends will make a difference and "will help us to stand bravely, to fight bravely and to fight smarter."