MSU shooting a 'flashback' for Oxford High survivors
Less than a hundred miles away from Oxford High School, where Andrea Ferguson's daughter survived a mass shooting in 2021, Michigan State University became the ground for another attack she found herself trapped in on Monday night.
Ferguson, whose daughter recently started her first semester at MSU, told NBC affiliate WDIV, she "never expected in my lifetime to have to experience two school shootings."
"It was like re-living Oxford all over again," she said, referring to the mass-shooting which left four students dead at the high school. "The phone call, the word shooting, shooter, it was so real."
Remembering the previous shooting, Oxford County Sheriff's Office said in a Facebook post, "We also know that this will be a terrible flashback for our Oxford community, especially those students that graduated from Oxford high school and now attend MSU."
Photo: Officers outside Michigan State University
Police investigate the scene of a shooting at Berkey Hall on the campus of Michigan State University, late Monday, Feb. 13, 2023, in East Lansing, Mich.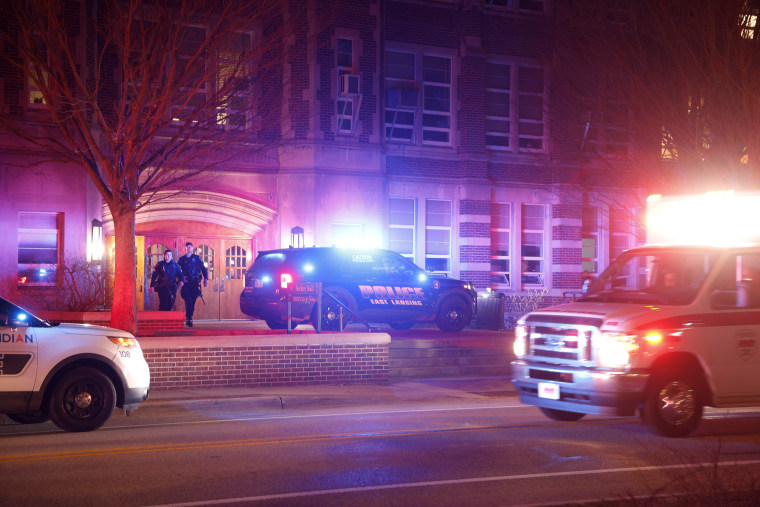 Buildings where shootings unfolded were unlocked and open to public, police say
The two MSU campus buildings where the shootings unfolded were both unlocked and "open to the public," police said in an update early Tuesday morning.
Berkey Hall, where gunfire was first reported, is "a purely academic building," Chris Rozman, interim deputy chief of the Michigan State University Police said.
"That building is unlocked and open to the public during business hours, if you will," Rozman said. He said the shooting unfolded before the building was "secured overnight" and that "to my knowledge, there were activities occurring in that building as part of the academic function of the university."
The MSU Union, where the second shooting unfolded, was similarly unlocked and open to the public, Rozman said.
MSU students to be offered counseling
Students at Michigan State University will be offered counseling services in the wake of Monday's tragedy.
Starting at 9 a.m. on Tuesday, MSU Counseling and Psychiatric Services will be partnering with local providers to offer counseling to students in need, the university announced on its website.
Counseling services will be available at the Hannah Community Center located at 819 Abbot Rd, East Lansing, MI 48823, it said.
Armored vehicles, drones and canines deployed in response to shooting
"Significant equipment" was deployed in response to the MSU shooting, including armored vehicles, drones and canines, the Oakland County Sheriff's Office said.
SWAT officers, mobile command vehicles and personnel were also deployed, the sheriff's office, which is based in Pontiac, about 75 miles east of the MSU campus, said in a Facebook post.
All MSU classes and campus activities canceled
All classes, both virtual and in-person, have been canceled at MSU for at least a 48-hour period, the university said Tuesday morning.
Athletic events and "all other campus activities" have also been canceled, the school said on its website in an update just after 1 a.m. ET.
"Supervisors will be notifying designated essential employees if they should report to campus tomorrow," the school said.
Shooting comes on eve of Parkland massacre anniversary
Monday's shooting unfolded on the eve of the fifth anniversary of the Parkland school shooting that left 14 students and three staff members dead.
The Feb. 14, 2018 massacre at the Marjory Stoneman Douglas High School in Parkland, Florida, sparked widespread protests over gun violence and school shootings in the U.S.
"Five years ago to the day, 17 people were killed in Parkland in a horrific shooting that never should have happened," March For Our Lives, a youth-driven organization originally created by students who survived the Parkland mass shooting, said in a tweet.
"Now, another shooting at MSU that never should have happened. Grieve for the dead. Fight like hell for the living," it said.
Reunification center clears out
An area that was being used as a reunification center in the aftermath of the shooting has closed, authorities said.
The MSU Pavilion had been identified as a reunification spot following the deadly incident, but Michigan State University Police said the center had been closed as of around 3 a.m.
"No students remain at that location," they said in a tweet.
Photo: Students gather outside Michigan State campus
Students gather on the campus of Michigan State University after a shelter in place order was lifted early Tuesday in East Lansing, Mich.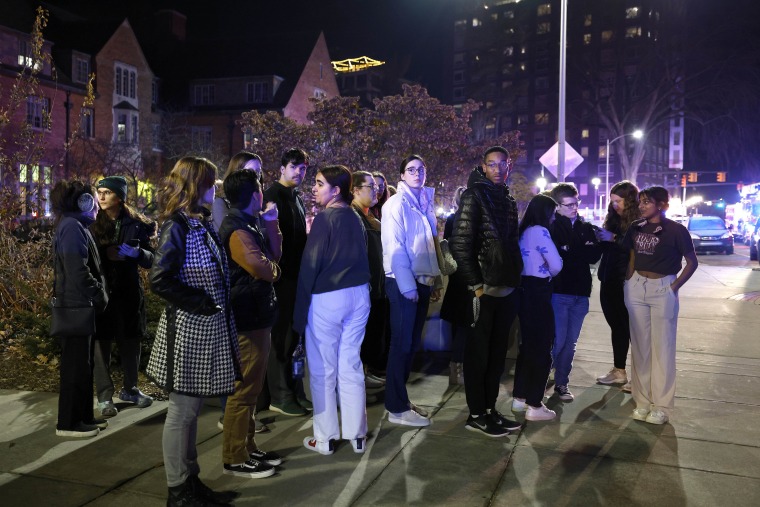 Five wounded remain in critical condition
The five people wounded in Monday's shooting were still in critical condition as of Tuesday morning, a university official said.
Speaking at a news conference at around 1:30 a.m., University Interim President Teresa K. Woodruff said the five people taken to E.W. Sparrow Hospital in Lansing remained critically wounded.
Woodruff said officials may have future updates on their conditions later Tuesday morning.
Photo: Tent covers body of gunman in Lansing, Mich., Tuesday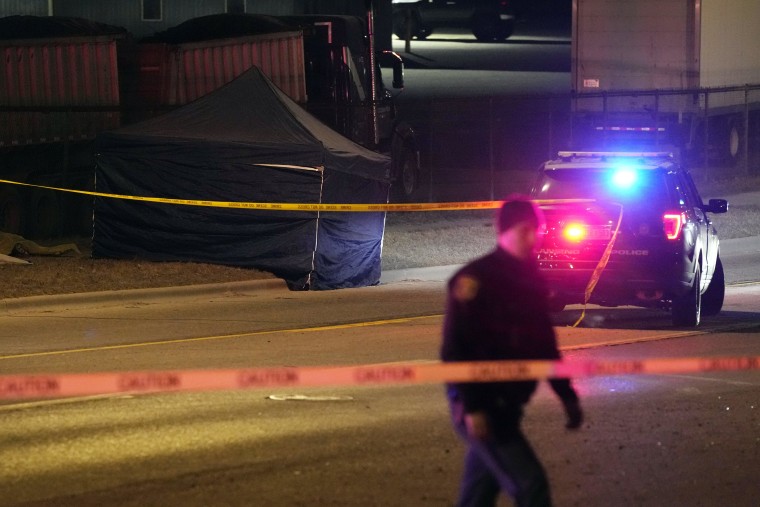 3 people dead as police hunt for motive
Three people are dead and five others wounded after a shooting at Michigan State University on Monday that ended with the suspect fatally shooting himself, police said.
The shooting saw students and others shelter in place for hours on the East Lansing campus, which is home to 50,000 students.
The suspected shooter, a 43-year-old man who police said had no affiliation to the university, was found dead with a self-inflicted gunshot wound following a confrontation with law enforcement in the adjacent city of Lansing, Chris Rozman, interim deputy chief of the Michigan State University Police said.
The shooter has yet to be identified and a motive remains unknown, police said.