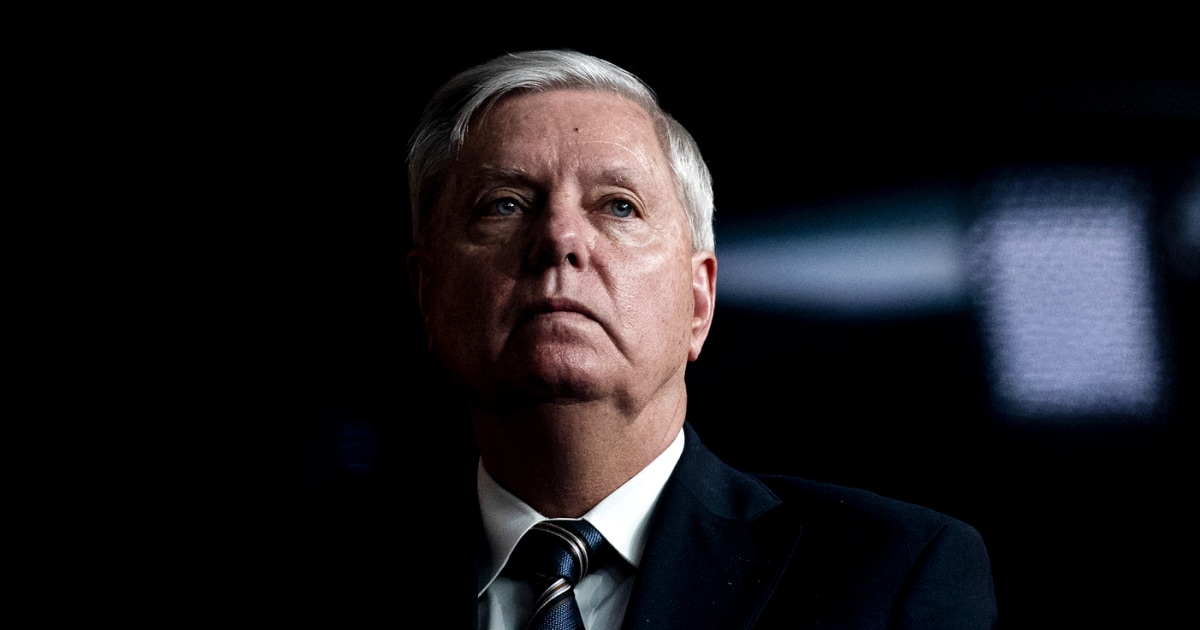 WASHINGTON — It only took hours for fellow Republicans to trash Sen. Lindsey Graham's 15-week national abortion ban bill Tuesday.
From the halls of Congress to the campaign trail, Republicans attacked the bill as a distraction that divides the GOP and reminds voters that most of them see the party as too extreme on abortion.
"Bad idea," said Chris Mottola, a GOP strategist and ad-maker. "It rips open a political sore. The political environment was moving back to economic issues. It further nationalizes an issue that works against Republicans generically."
Graham introduced his bill, which would ban abortion after 15 weeks in most cases, just eight weeks before the midterm elections, and at a time when some Republican candidates have been racing to distance themselves from their own past positions on abortion.
Now, it's Republican leaders, rank-and-file lawmakers and political strategists who are distancing themselves from Graham. Though his bill stands no chance with Democrats in control of the House, Senate and White House, it immediately gave Democrats ammunition to argue that Republicans will ban abortion if they win power in Washington.
Even Senate Minority Leader Mitch McConnell, R-Ky., distanced himself from the federal legislation.
"Most of the members of my conference prefer that this be dealt with at the state level," McConnell told reporters Tuesday.
On the other side of the GOP spectrum, Sen. Lisa Murkowski, R-Alaska, rejected Graham's proposal by noting her support of federal protections for abortion. Similarly, Sen. Susan Collins, R-Maine, said "a far better approach" would be her bipartisan legislation that essentially would codify Roe v. Wade, the landmark Supreme Court decision that was struck down this year.
Collins refused to comment on the political wisdom of Graham filing his legislation in the foreground of the midterms.
Instead of creating a consensus point for GOP candidates, Graham's plan puts them on the spot — and on the defensive — rather than in a position of attacking President Joe Biden on issues that favor them more, GOP strategists said.
"Trust me, Republicans want to be talking economy and Biden," said an adviser to Georgia Gov. Brian Kemp, who spoke on the condition of anonymity to reflect the re-election campaign's thinking. "We don't want this debate. It doesn't help."
Some Republicans were more circumspect, arguing that it remains to be seen whether Graham's bill gives more to Republicans or Democrats.
"Look, it's a turnout steroid shot in the arm to turn out the base in November," Republican strategist John Porter said. "Question is if the juice is worth the squeeze" in terms of energized Republican voters offsetting the loss of ticket-splitters in swing states.
The proposal offers Republican House and Senate candidates a measure that some conservatives hope will counter a polling surge for Democrats after the Supreme Court's Dobbs decision overturned abortion protections in June.
But as McConnell's comments indicated, Graham's federal bill presented a fundamental messaging problem: It flew in the face of Republican talking points that states should decide the issue.
The bill, which would not affect more stringent state limitations on abortion, would ban the procedure after 15 weeks, except in cases where the life of the mother is at risk or the pregnancy was caused by rape or incest.
A doctor would be required to determine the gestational age of the fetus, including by using "medical examinations and tests as a reasonably prudent physician, knowledgeable about the case and the medical conditions involved, would consider necessary to make an accurate determination of gestational age."
Graham cast his measure as a contrast to Democrats' support for a federal law protecting the right to an abortion.
"After Roe vs. Wade was overturned, Democrats in Congress have rallied behind pro-choice legislation which allows abortion right up until the moment of birth," Graham said in a statement. "I view the Democrat proposal as radical and one that Americans will ultimately reject. Our legislation is a responsible alternative as we provide exceptions for cases of rape, incest, and life and physical health of the mother."
But Democrats and abortion rights groups say Graham is misrepresenting their position and that they only support late-term abortions if a medical professional determines the mother's health is in jeopardy. They ripped the bill, with White House press secretary Karine Jean-Pierre calling it "wildly out of step with what Americans believe" in a statement.
Graham's bill comes at a time when some Republican candidates are scrambling to erase past positions favoring an all-out abortion ban and seeking safer political ground. Republican operatives have warned the party's candidates that voters see the party as too extreme on abortion in advance of the midterms.
The data back that up.
Voters see Republicans as more extreme than Democrats on abortion — 51% to 32% in battleground states — according to polling conducted by WPA Intelligence, a GOP political consulting firm. The survey showed 41% of likely voters are more likely to vote for a Democrat and 24% are more likely to vote for a Republican because of the Dobbs decision.
Republican operatives have reason to see Graham's 15-week ban bill as a compromise between factions of the GOP — one that opposes abortion in all circumstances and one that prefers fewer restrictions. Though the federal legislation is less stringent than the state laws and proposals that have alienated many voters, it's still not a popular idea.
While 52% of Americans oppose legislation that would prohibit abortion after 15 weeks, only 21% of Republicans are against it, according to a July survey conducted by the Public Religion Research Institute.
The rapid response from Democrats and abortion-rights groups Tuesday indicated an eagerness to keep the issue at the front of voters' minds over the next two months.
"Anti-abortion rights congressional Republicans are showing us exactly what they plan to do if they get power: pass a national abortion ban," said Alexis McGill Johnson, president of Planned Parenthood Action Fund, which supports abortion rights. "They have seen the horrors and dangerous consequences of abortion bans playing out in states across the country and made it their national agenda. The cruelty is the point, and we should take them at their word."
On Tuesday, Graham seemed to take fire from all sides, most notably from Republicans who say he has handed a gift to Democratic candidates.
"Unless our Senate candidates already have that position, it just highlights how much more extreme they are for this position," said one top Republican strategist involved in Senate campaigns. "Stupid, just stupid."
Republican senators avoided criticizing Graham directly while enunciating their preference to talk about other topics.
"I, for one, want to focus on the inflation numbers that came out today, the imminent potential strike of railroad workers is what people are talking about," Sen. Thom Tillis, R-N.C., said. "People having to spend $113 versus $100 to get ready to bring their kids back to school — that's the way we ought to be focusing on."
Asked if he supported Graham's legislation, Tillis drew attention to the fact that Graham once supported a 20-week pregnancy limit for abortions that he now has shaved down by five weeks.
"I've supported the 20-week, I haven't looked at [the new legislation," Tillis said.