Photo: Four children from the same family die in Syria quake
The bodies of four children from one Syrian family, lie wrapped in sheets on Monday in the town of Jandaris, following a deadly earthquake.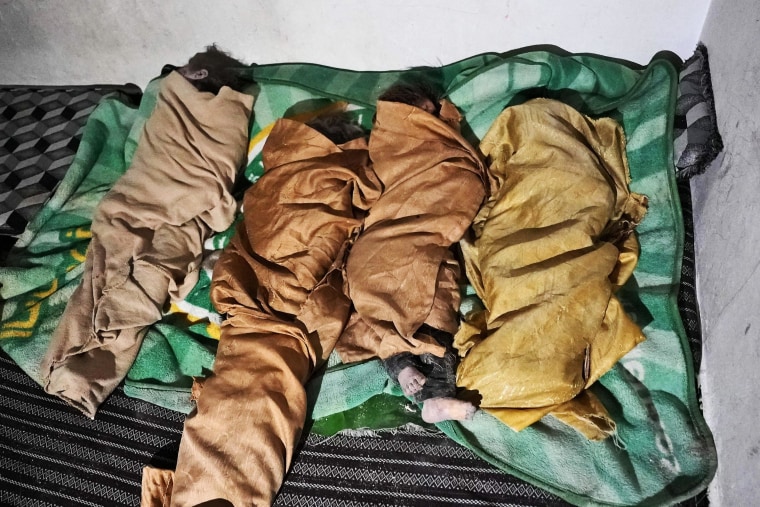 South Korea and Japan extend their condolences to Turkey
Japanese and South Korean leaders expressed their condolences to Turkey, drawing historical links between the tragedies of their nations.
"Like Turkey, Japan has also experienced serious damage from earthquakes many times, and in past disasters as well, Japan and Turkey have provided support for each other," Prime Minister Kishida Fumio told Turkish President Recep Tayyip Erdogan on Monday, according to a statement.
"We stand ready to assist Turkiye, a brotherhood forged in blood during the Korean War, in any way possible." South Korean President Yoon Suk Yeol wrote on Twitter.
Pakistan PM to visit Turkey and offer support
Pakistan's Prime Minister Shehbaz Sharif will travel to Turkey's capital Ankara on Wednesday, Information Minister Marriyum Aurangzeb said Tuesday on Twitter.
"24 hours after the devastating earthquake hit Turkiye & Syria, scenes of death & destruction are mind numbing," Sharif said in a separate tweet on Tuesday.
Meanwhile the South Asian country also sent dozens of disaster relief personnel and aid equipment which arrived in Turkey on Tuesday, the Pakistani air force said in a tweet.
Photo: Woman pulled from the rubble in southern Turkey
Rescue workers carry a woman out of the debris of a collapsed building in Kahramanmaras, southern Turkey on Tuesday.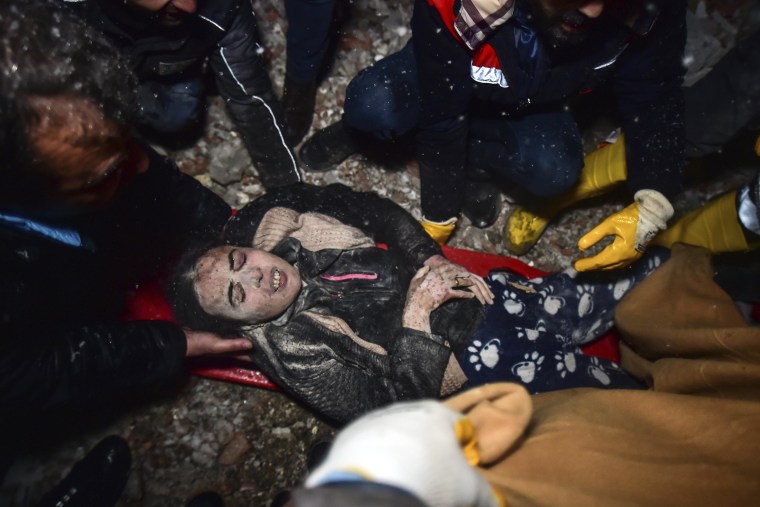 White Helmets 'unable to respond to the full scale of the disaster' in Syria
In Syria, members of the White Helmets are struggling to cope with the sheer scale of the disaster, the organization said in a statement Tuesday.
"Great efforts are being made by our teams, but they are unable to respond to the full scale of the disaster. Hundreds remain trapped under the rubble," the team of search and rescue responders officially known as Syria Civil Defence said in a statement.
In a separate statement, it said that more than 200 buildings had been completely destroyed, with tens of thousands cracked.
Some 23 million people likely affected by quakes, WHO warns
Some 23 million people, including 1.4 million children, across Turkey and Syria were likely affected by Monday's earthquake and its aftershocks, according to the World Health Organization.
The WHO said it was dispatching emergency supplies, including trauma and emergency surgical kits, to the region as it activated a network of emergency medical teams.
"It's now a race against time," said WHO Director General Tedros Adhanom Ghebreyesus. "Every minute, every hour that passes, the chances of finding survivors alive diminishes."
Photo: L.A. County firefighters deployed to Turkey
Members of the Los Angeles County Fire Department prepare for deployment in Pacoima, Calif., on Monday after being activated by US Aid to go to Turkey to assist with earthquake recovery efforts.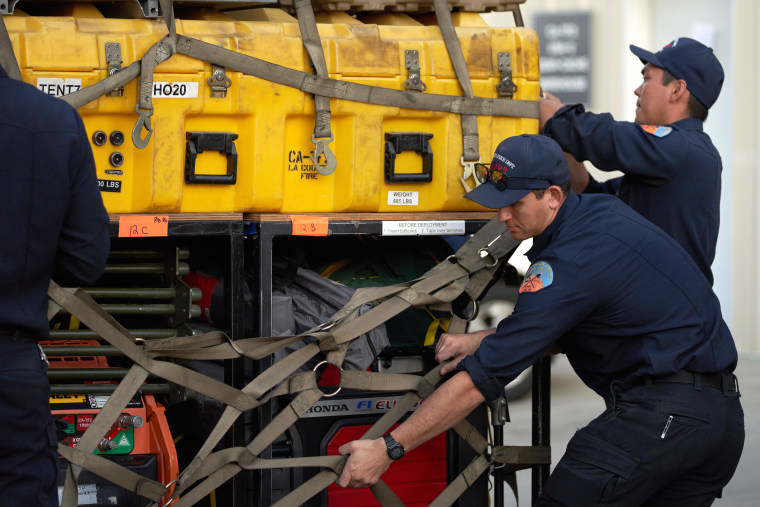 China offers almost $6 billion in aid to Turkey and Syria
Chinese President Xi Jinping expressed his condolences to Turkey's President Recep Tayyip Erdogan and Syrian President Bashar al-Assad, the Chinese foreign ministry said late Monday.
"Xi Jinping expressed his shock learning of the strong earthquakes in Türkiye and Syria, which caused heavy casualties and property losses," the ministry said in a statement.
China will also provide 40 million yuan ($5.9 million) in relief aid to Turkey, state news agency Xinhua said Tuesday, adding that additional aid of $200,000 will be provided to Turkey and Syria each by China's Red Cross.
Photo: Turkish mosque destroyed by earthquake
The Yeni mosque destroyed by an earthquake in Malatya, Turkey on Monday.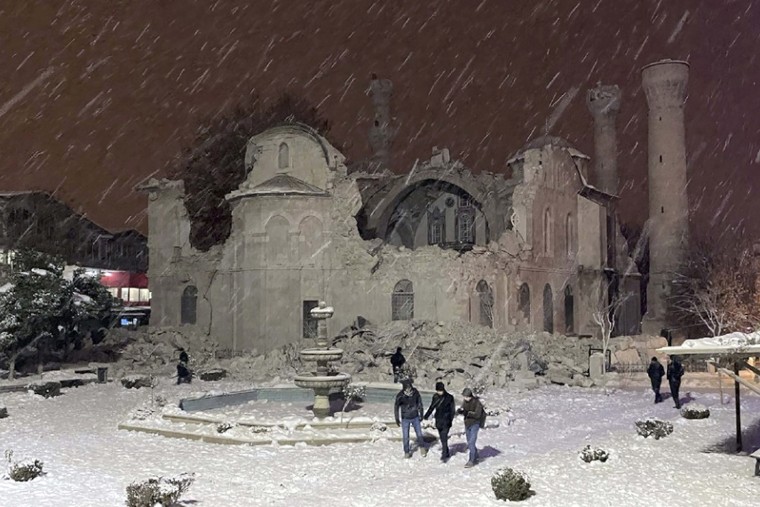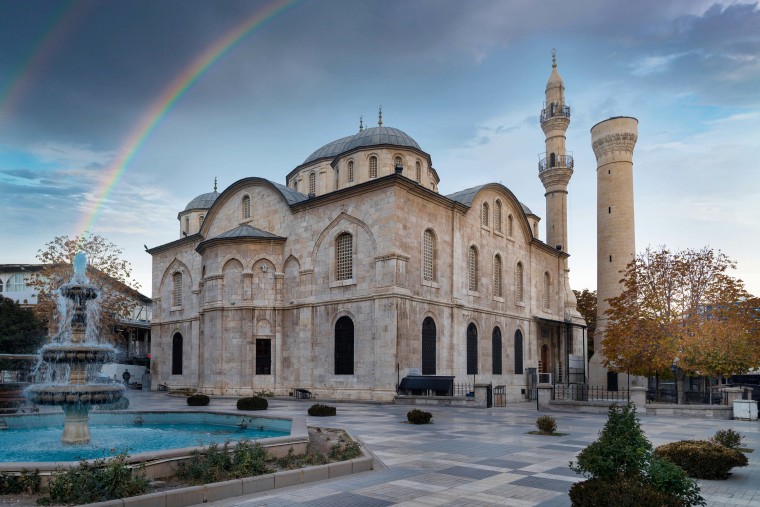 Freezing weather complicates search for survivors
As search and rescue teams race to pull survivors from the rubble amid continuing aftershocks, freezing weather and snow have been further complicating the search.
In Malatya, a city in the Eastern Anatolia region of Turkey, rescue teams searched for survivors in below-freezing weather Tuesday.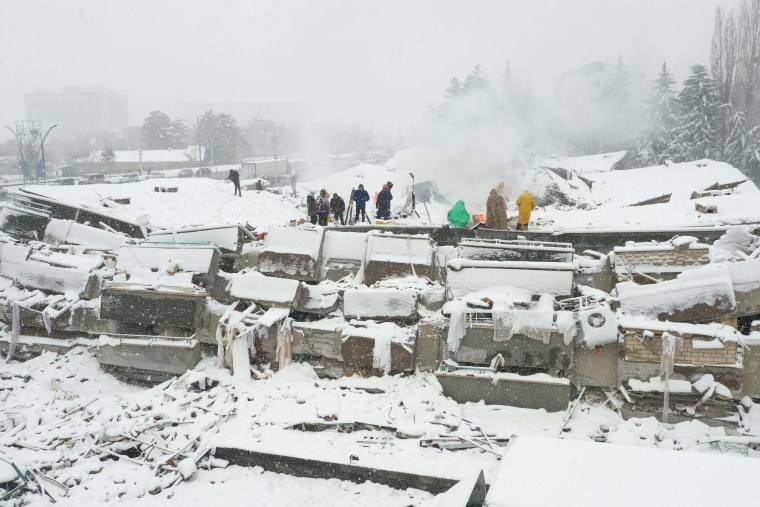 Photo: Dust rises from the rubble as search intensifies in Turkey
Emergency teams search for people in the rubble of a destroyed building in Adana, southern Turkey on Tuesday.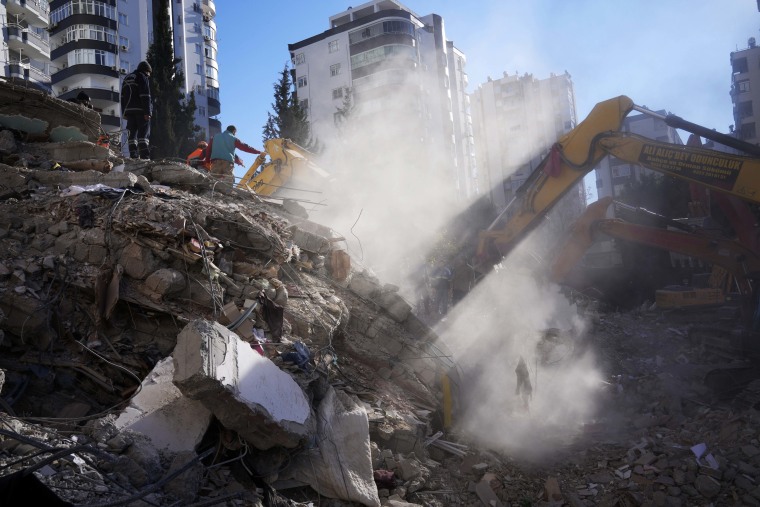 India's aid team and relief equipment arrives in Turkey
India's first dispatch of its aid team arrived in Turkey on Tuesday morning, with a second supply en route, officials said.
More than 50 search and rescue personnel as well as dog squads, relief equipment and medicines had been sent, External Affairs Minister Subrahmanyam Jaishankar wrote on Twitter.
"India continues to support the people of Türkiye in their hour of need," external affairs ministry spokesperson Arindam Bagchi said on Twitter.
Photo: Search continues amid port fire in Iskendetun, Turkey
A woman searches for victims at the site of a collapsed building as plumes of black smoke rise in the Turkish port city of city of Iskenderun on Tuesday.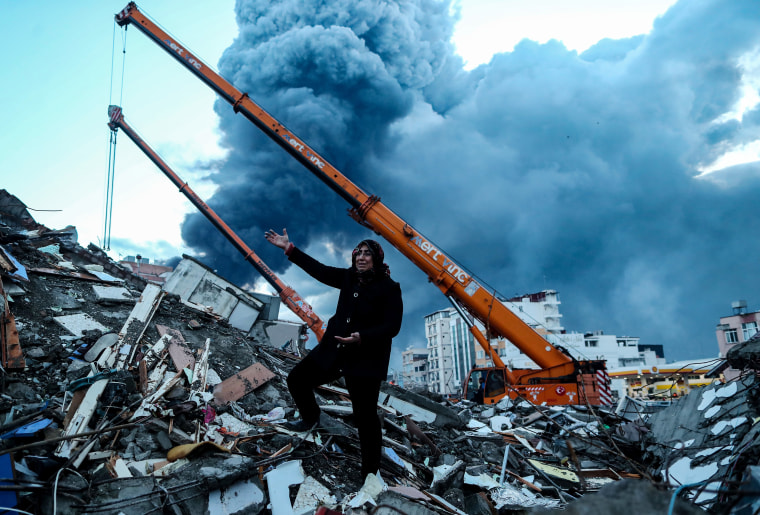 Search and rescue efforts continue as death toll soars past 5,000
Search and rescue efforts continued in Turkey and Syria on Tuesday following Monday's devastating earthquakes as the death toll continued to climb, soaring past 5,000 people.
In Turkey, at least 3,419 people were killed, the country's vice president said in an update. In Syria, the death toll in government-held areas climbed to 812 people, according to the Ministry of Health. Meanwhile, at least 790 people died in the country's rebel-held territories, according to the White Helmets.
That takes the total to at least 5,021 people killed across Turkey and Syria, with thousands more injured and many still buried beneath the rubble.