WASHINGTON — For a second consecutive day, a band of 20 ultraconservative rebels blocked GOP leader Kevin McCarthy from winning the speaker's gavel, just hours after former President Donald Trump called on House Republicans to back him and "close the deal."
Over Tuesday and Wednesday, six votes were held on the House floor to choose a speaker; each time, the rebels stuck together and voted for someone else, denying McCarthy, R-Calif., the 218 votes he needed to win.
With both McCarthy allies and foes deeply dug in, it ensures that chaos will reign in the House for the foreseeable future under the new GOP majority.
The House voted 216-214 to adjourn just before 8:30 p.m., setting up a seventh speaker vote for Thursday. Four of McCarthy's opponents joined Democrats in an unsuccessful attempt to keep the House in session Wednesday night: Andy Biggs and Eli Crane of Arizona, Lauren Boebert of Colorado and Matt Gaetz of Florida.
Leaving the floor after the sixth failed vote, McCarthy said that he was "very confident" the fight will work out in his favor and that his plan was "to work through it, get everybody together and solve our problems."
McCarthy then huddled behind closed doors in the Capitol with some of his closest allies and members of the opposition to try to hammer out an agreement. But after hours of discussions, the two sides appeared no closer to a deal.
"I'm just saying we listened. You know the devil's in the details," Rep. Ralph Norman, R-S.C., a vocal McCarthy critic, said as he left the meeting.
McCarthy told reporters he did not want to move forward with another vote Wednesday night to keep talks going. "I think it's probably best to let people work through some more. I don't think a vote tonight does any difference, but I think vote in the future will," he said after the huddle.
During the fourth, fifth and sixth ballots Wednesday, McCarthy — who has served in leadership for the past 14 years — received support from more than 90% of the 222 GOP members. Earlier in the day, he was nominated by Rep. Warren Davidson, R-Ohio, a member of the far-right Freedom Caucus, who warned his fellow conservatives that their opposition will end up hurting their cause.
"We're on the precipice of such a destructive argument today. I plead with all — all of my Republican colleagues, let cooler, more rational heads prevail. Let us unite as Republicans to elect the next speaker of the House," Davidson said.
But the McCarthy foes showed no signs of backing down. In the three votes Wednesday, they rallied behind Rep. Byron Donalds, a Black Florida conservative who won his second term in November.
Boebert nominated Donalds, her Freedom Caucus colleague, saying she was not swayed after Trump — "my favorite president" — called her to tell her to "knock this off."
"The president needs to tell Kevin McCarthy that 'sir, you do not have the votes and it's time to withdraw,'" Boebert said to scattered boos.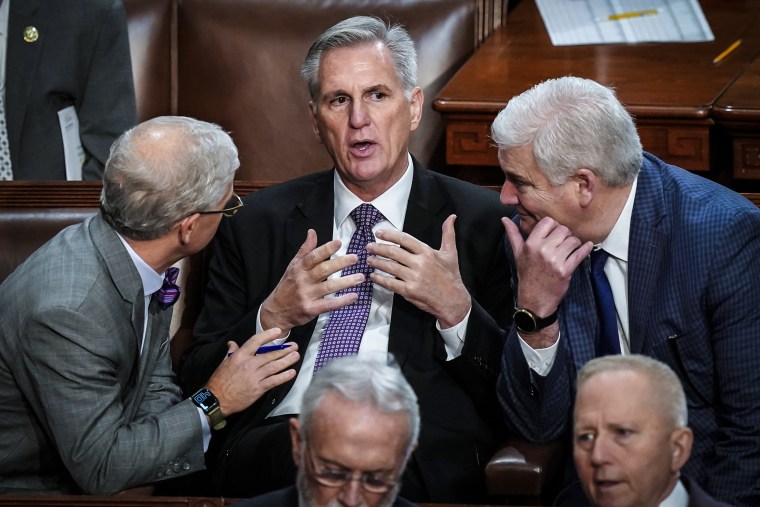 Democrats united behind their candidate, Minority Leader Hakeem Jeffries of New York.
Rep. Chip Roy, R-Texas, first nominated Donalds as the right-wing alternative to McCarthy on the fourth ballot, evoking Jeffries' history-making role. "For the first time in history, there have been two Black Americans placed into the nomination for speaker of the House," Roy said.
Members on both sides of the aisle responded with a standing ovation.
The roll calls barely changed on each successive ballot. Donalds defected from McCarthy after having voted for him twice, and Rep. Victoria Spartz, R-Ind., who had backed McCarthy in three votes Tuesday, voted present Wednesday.
"We have a constitutional duty to elect the Speaker of the House, but we have to deliberate further as a Republican conference until we have enough votes and stop wasting everyone's time," Spartz said in a statement. "None of the Republican candidates have this number yet. That's why I voted present after all votes were cast."
It is the first time in 100 years that a vote for House speaker has gone to multiple ballots.
"Sure, it looks messy," Rep. Mike Gallagher, R-Wis., said on the floor as he rose to nominate McCarthy for the fourth ballot, "but democracy is messy by design."
McCarthy's opponents, informally dubbed the Never Kevins, have indicated they're in for the long haul.
"This is a good thing for democracy," Norman, one of the Never Kevins, said Wednesday of the chaos on the floor. "And I don't care what the press says. … I don't care who endorses McCarthy. Us 20 want changes. And we're gonna stay here until we get it or something happens."
Still, McCarthy has argued that he won his party's nomination for speaker in November, that he has the support of 9 out of 10 Republicans in his conference and that the number of his detractors hasn't grown much.
McCarthy's allies have vowed to hold roll call votes until the opposition caves.
"You can't accommodate a small group that essentially has you hostage, and that's what's going on here — we're not going to do it," moderate Rep. Don Bacon of Nebraska said after Tuesday's vote series.
One Democrat suggested she might even support McCarthy to end the standoff.
"I was thinking today, 'Gosh, Kevin McCarthy was only short a few votes.' I wish I could be part of some kind of a unity caucus that would yield him the votes," Rep. Marcy Kaptur, D-Ohio, told a reporter for Spectrum News. "I was going around talking to some of my Republican colleagues about that."
McCarthy allies expressed frustration at the conservative rabble-rousers for exposing internal GOP divisions at the very moment Republicans are taking control of the House after four years in the minority. Without a speaker, House lawmakers can't be sworn in, committees can't be formed, and GOP investigations into the Biden administration can't begin.
Essentially, there is no functioning House of Representatives until a speaker is chosen.
"Everybody's just annoyed, agitated. The people that are doing this, which I count a lot of them as my good friends, need to know when [to] accept the win," Rep. Doug LaMalfa, R-Calif., said about concessions the conservatives had extracted from McCarthy.
"So take most of the win and go with it and build on it for later."
In the third and final vote Tuesday, the 20 GOP defectors all cast their votes for Rep. Jim Jordan of Ohio, a founding member of the far-right Freedom Caucus, even though he has endorsed McCarthy and he delivered a nominating speech for him. Jordan later told reporters he wanted only to become chairman of the Judiciary Committee in the new Congress.
Rep. Marjorie Taylor Greene, R-Ga., who is close with Jordan and has endorsed McCarthy, said it was inconsiderate and appalling that the defectors were trying to push Jordan into the speaker's office.
"Jim Jordan says, 'I am supporting Kevin McCarthy,' and he goes out there on the House floor, says it and votes for him repeatedly," Greene told reporters. "Twenty Republicans don't even respect Jim Jordan enough to respect what he wants to do."
The remarkable floor fight has pitted Trump loyalists against one another as Trump makes another bid for the White House. McCarthy, Jordan and Greene have been some of Trump's biggest allies on Capitol Hill, but they're now facing off against Trump supporters like Gaetz and newer leaders of the Trump-aligned Freedom Caucus, Biggs and Rep. Scott Perry of Pennsylvania.
Trump endorsed McCarthy for speaker and had been making calls on his behalf.
After he spoke with McCarthy, Trump gave a full-throated endorsement Wednesday morning and called on House Republicans to rally behind him.
"[I]t's now time for all of our GREAT Republican House Members to VOTE FOR KEVIN, CLOSE THE DEAL, TAKE THE VICTORY," Trump wrote in a Truth Social post Wednesday morning that also disparaged former Speaker Nancy Pelosi, D-Calif.
"REPUBLICANS, DO NOT TURN A GREAT TRIUMPH INTO A GIANT & EMBARRASSING DEFEAT. IT'S TIME TO CELEBRATE, YOU DESERVE IT. Kevin McCarthy will do a good job, and maybe even a GREAT JOB — JUST WATCH!"
McCarthy has explored alternative paths to victory that would require fewer votes, such as getting some critics to abstain, which would lower the overall number needed to win.
"I think we'll find our way to get there. This is a healthy debate," McCarthy told reporters. "It might not happen on the day we want, but it's going to happen. … I think at the end of the day, we'll get everybody."
Bacon warned that if conservatives dig in on their opposition to McCarthy, delaying House business, moderates will need to reach across the aisle to try to reach a deal with Democrats on a consensus speaker.
"You can have some folks you can work with, but I think in the end you just go to the top one or two people in the Democratic Party and start making a deal," Bacon told reporters.
"If they prove to themselves that they can't function as part of a team, then we're going to make that decision. But we're not there. I think Kevin still has lots of runway."