The quake hit an area of Syria's northwest that is divided between government-held territory and the country's last remaining rebel-controlled enclave. Turkey is home to millions of refugees from the conflict.
At least 326 people were killed in government-controlled areas and 1,000 were injured, according to the country's health ministry. In opposition-held areas, members of the opposition emergency organization known as the White Helmets said the earthquake had killed at least 150 people and injured hundreds more.
That takes the combined death toll across the two borders to at least 1,388, with fears it may still rise substantially.
"We were shaken like a cradle. There were nine of us at home. Two sons of mine are still in the rubble, I'm waiting for them," said a woman with a broken arm and wounds on her face, speaking to Reuters in an ambulance near the wreckage of a seven-story block where she had lived in Diyarbakir in southeast Turkey.
The U.S. Geological Survey said the quake was centered about 20 miles from Gaziantep, Turkey, a major city and provincial capital, when it struck at 3:17 a.m. local time.
It was centered 11 miles deep, and a strong 6.7-magnitude aftershock rumbled about 10 minutes later. At least 20 aftershocks followed in total, some hours later.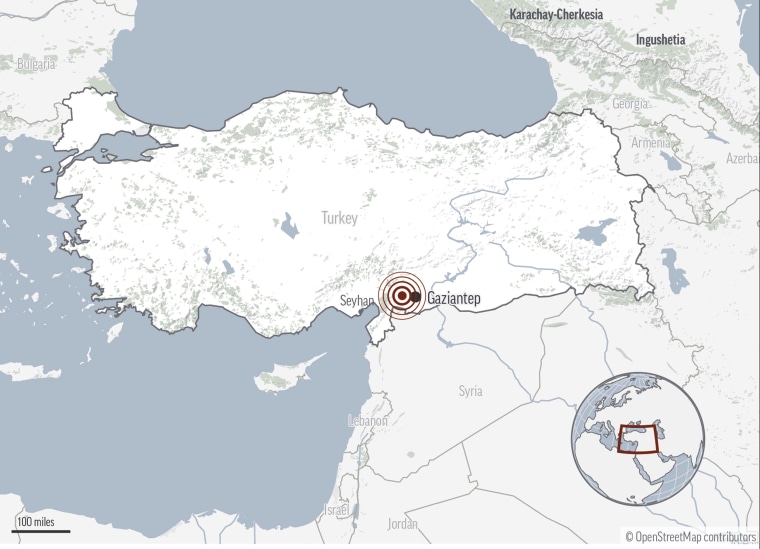 Working in pitch dark with only helmet flashlights to aid them through bitterly cold and wet winter conditions, volunteers searched through mangled metal and concrete for those trapped in the rubble.
Strained health facilities and hospitals were quickly filled with wounded, rescue workers said.
Dramatic images emerged of volunteers rescuing a child covered in mud from the rubble in the town of Zardana in the countryside of Syria's northwestern Idlib province.
Another Syrian man was pictured carrying the body of a dead girl still wearing her striped pink and green socks, who was killed in the earthquake in Azmarin, another town in the Idlib province.