Salome Dunaevsky, 57, said she felt Netanyahu's plan would lead to chaos.
"It gives total power, almost total power, to the politicians," she said. "It means that there is no rule. You can do whatever."
Israel's diplomatic staff were among those on strike Monday on the advice of their trade union, one diplomat who was not authorized to brief the media told NBC News. Israel's embassies in Washington and around the world shut as a result and some diplomats replaced their social media profile pictures with the Israeli flag.
Peter Lerner, the head of international relations at Histadrut, the Israeli trade union umbrella group representing some 700,000 workers, tweeted a video of cheering activists. He said the group's chairman, Arnon Bar-David, had just told the meeting: "We are stopping the legal revolution."
"This is the time that together we bring Israel back to sanity and to the right path. This is the time that we together say 'enough' and it doesn't matter if we are right or left," Histadrut said in a statement.
The unrest affected many sectors. Israel's airport authority confirmed just before 11 a.m. local time (4 a.m. ET) that all departing flights from Ben-Gurion International Airport would be grounded.
Two of Israel's main seaports, Haifa and Ashdod, said in separate statements seen by Reuters that they would shut down in support of the general strike.
Big brands also took part in the protest: McDonald's said it would begin closing its restaurants across the country from midday (5 a.m. ET) before a full national closure from 2 p.m. (7 a.m. ET).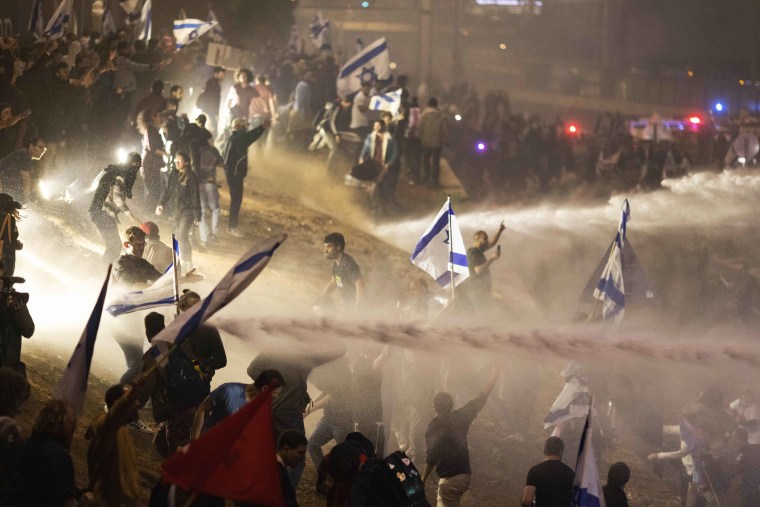 Israel's leading universities was also closed Monday in protest against both Netanyahu's judicial overhaul plan and Gallant's firing.
"We, the presidents and rectors of the research universities in Israel, express deep concern about the division and polarization in Israeli society and processes that could lead to a real damage to the national strength and stability of the State of Israel," they said in a statement. Netanyahu's planned changes could lead to a "brain drain" in Israel and discourage international students, the statement added.
Some of the prime minister's closest allies appeared intent on making sure the legislation passed.
"Under no circumstances should the reform to fix the justice system and strengthen Israeli democracy be stopped," said Finance Minister Bezalel Smotrich. In a video statement, he added that to ditch the judiciary plan would mean submitting "to violence, anarchy and wild strikes."
Smotrich, who has a history of making controversial remarks and last week said there was no such thing as a Palestinian people, said he would attend a pro-government protest in Jerusalem later on Monday.
Israeli President Isaac Herzog was among those calling for the changes to be halted.
"The entire nation is rapt with deep worry. Our security, economy, society — all are under threat," he said in a statement Monday.
Israel's consul general in New York, Asaf Zamir, announced Sunday night he would resign after 18 months in the job, over the judicial changes and the defense minister's firing.
International pressure was also growing over Netanyahu's planned overhaul.
The White House released a statement from the National Security Council on Sunday night that said the most recent protests "further underscore the urgent need for compromise."
"As the president recently discussed with Prime Minister Netanyahu, democratic values have always been, and must remain, a hallmark of the U.S.-Israel relationship," it said.
Patrick Smith reported from London. Ali Zelenko reported from Jerusalem.
Josh Lederman contributed.