NATIONAL HARBOR, MD. — Donald Trump seemed to have Gov. Ron DeSantis on his mind here Saturday evening during his speech at the Conservative Political Action Conference.
Addressing an audience of devoted fans at the annual conservative gathering, the former president called out Republicans who, in the past, have favored cuts to entitlement programs.
"We're not going back to people that want to destroy our great Social Security system," Trump said in his speech. "Even some in our own party."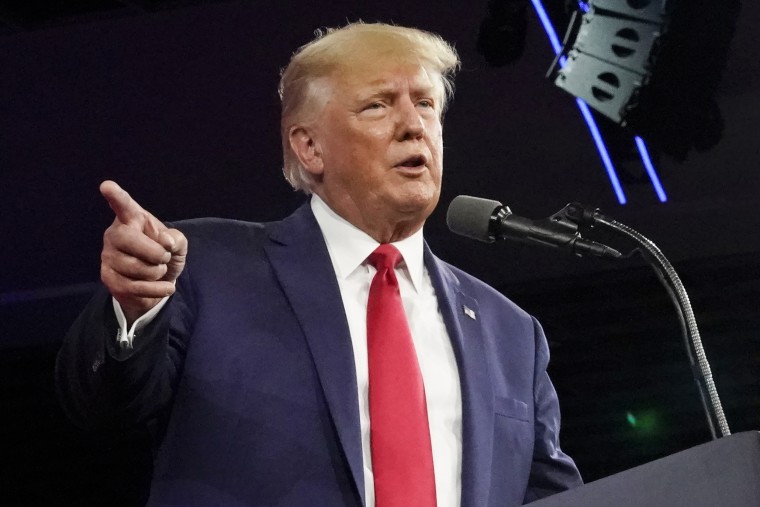 Trump then added coyly: "I wonder who that might be."
He never mentioned the Florida governor by name. But DeSantis, a former member of Congress, recently made headlines for retreating from past votes and comments in favor of raising the retirement age and privatizing Social Security and Medicare. The subtle contrast by Trump comes as the two Republicans are on a seeming collision course in the 2024 Republican presidential primary. Polls have consistently shown DeSantis as Trump's strongest potential competitor for the nomination.
Trump, in his nearly two-hour speech, also called for Republicans to once and for all renounce the George W. Bush-era conservatism that preceded his rise in politics — a rebuke of a GOP establishment that has signaled interest in moving on from Trump.
Before he came along, Trump argued, the party was run by "freaks" and "fools."
I am your warrior. I am your justice. And for those who have been wronged and betrayed, I am your retribution.
Former President Donald Trump
"We are never going back to the party of Paul Ryan, Karl Rove and Jeb Bush," Trump said, singling out by name a former House speaker, the architect of former President George W. Bush's political career and Bush's younger brother, who lost to Trump in the 2016 primaries.
The callbacks to the Bush family are reminiscent of 2016, when Trump emphasized the bad intelligence that preceded then-President George W. Bush's invasion of Iraq and mocked Jeb Bush's candidacy as "low energy." They also served as another thinly veiled arrow in DeSantis' direction. Jeb Bush, himself a former Florida governor, has praised DeSantis in interviews.
Trump, who has said without proof that the 2020 election was stolen from him, repeated his skepticism of how states conduct elections. But he also offered his most forceful endorsement of mail-in balloting — a process he's been highly critical of in the past, to the dismay of other Republicans.
"All Republican governors," Trump said, "should immediately go for paper ballots, one-day voting and voter ID."
"But until that day comes," he added, "Republicans must compete using every lawful means to win. That means swamping the left with mail-in votes, early votes and Election Day votes. Have to do it. We have to change our thinking."
The scene at this year's CPAC was overwhelmingly supportive of Trump, the halls lined with backers decked out in Trump or MAGA gear. The former president easily won conference's annual straw poll, beating DeSantis by more than 40 points. His victory was hardly a surprise, given the absence of DeSantis and most other announced or prospective 2024 hopefuls. The event, once a bigger-tent forum for conservative activists and donors, has largely been rebranded around Trump's personality-driven politics of antagonism and grievances.
DeSantis instead attended a private donor retreat for the Club for Growth, a conservative organization that has distanced itself from Trump, and prioritized trips to Texas and California to speak to GOP groups.
Speaking with reporters before his CPAC speech, Trump deflected questions about DeSantis' potential candidacy by talking up his own record as president.
"I've always had a good relationship with him," Trump said when asked by NBC News if he'd consider DeSantis as his running mate for vice president. "But it's much too early to talk about."
Trump's speech included broad and vague pledges if he's elected in 2024, some of them rooted in the culture wars surrounding school curriculum and transgender rights that DeSantis has fought in Florida. Trump called for the "direct election" of school principals, saying parents should have the power to fire them. His remarks were heavy on name-calling.
"Our enemies," he said at one point, "are lunatics and maniacs."
Trump also vowed political revenge against those enemies.
"If you put me back in White House, their reign is over," he said. "In 2016, I declared, 'I am your voice.' Today I add: I am your warrior. I am your justice. And for those who have been wronged and betrayed, I am your retribution."
Trump's CPAC speech, like others he has given during this campaign, painted a dark picture of America teetering on the edge.
"This is the final battle. They know it. I know it. You know it. Everybody knows that this is it," Trump said. "Either they win or we win. And if they win, we no longer have a country."
Trump has repeatedly said the country is "at the brink of World War III" and made the case that he is the one to bring it back to peace and prosperity.
Trump spent considerable time lamenting the government's many investigations into him, from the classified documents case to the investigation into Trump's actions around the 2020 election before a grand jury in Fulton County, Georgia. Trump tore into the district attorney there, as well as the grand jury foreperson who has discussed the proceedings in recent interviews.
"It's totally out of control," Trump said. The district attorney, he added, "has a kangaroo court focused on a perfect phone call that I made while her jury foreman, a rather bizarre young woman, is going around doing media interviews and saying exactly what's going on."
Trump's speech closed out a four-day conference in which he and his closest allies were by far the biggest crowd pleasers. The few declared or prospective rivals of his who attended — including his former United Nations ambassador, Nikki Haley — were greeted with an inhospitable mix of heckling and indifference.
The absences opened more space for Trump fandom to reign. Outside the main hall where he spoke, supporters gathered early in line, chanting "Trump! Trump! Trump!" and belting out the national anthem. And the dozens of speeches preceding Trump's were a who's who of MAGA world, including Donald Trump Jr., Rep. Marjorie Taylor Greene, R-Ga., and Kari Lake, a prominent election denier who lost her bid for Arizona governor last year.
"I've come here because I support Trump. He deserves the chance to finish what he started," said Melissa Elliott, of Richmond, Va.
CPAC, she said, was "one of the few places today where you can find like-minded people in one room."